Customizr, the free WordPress theme you'll fall in love with.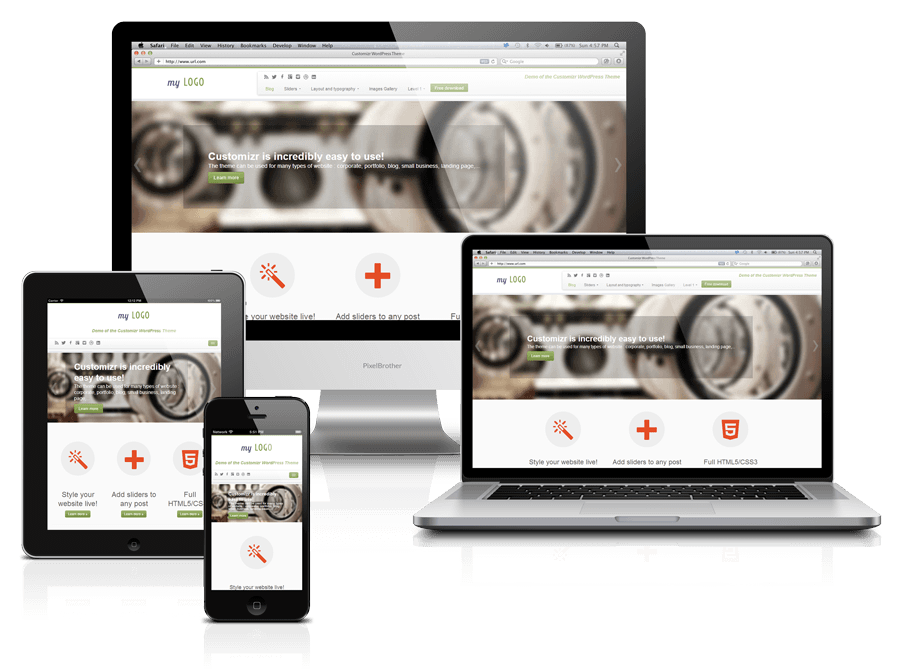 Customizr is a sleek WordPress theme offering most of the standard features you can expect from a premium website template. It takes not more than a few minutes to set it up and create a high impact responsive web presence (see some examples here).
Enjoy the experience!
---
You can use Customizr to build a clean and profesionnal looking corporate / portfolio / small business website, but it will also look great for a beautiful personnal blog or photo gallery.   
---
The theme has been designed to be easy to use for everyone. It doesn't need any technical or web design knowledges to get started with, thanks to its live option panel. 
---
Coded with the Twitter Bootstrap in CSS3 and HTML5, Customizr is fully responsive and will automatically adapt to fit any devices : desktop, tablets and smartphones.  
---
For developers, Customizr offers a modular structure based on a comprehensive hook's API, and uses the best WordPress coding standards. This theme acts like a collection of plugins you can enable, alter or disable without ever needing to modify the core code.
extensible and robust code
---
Customizr supports all major browsers, including IE down to IE7.
The daily feedbacks in the active support forum are constantly contributing to make the theme safer and stable with all browsers updates. 
---
---
With its versatility, ease of use and reliability, Customizr has become one of the most popular themes on the WordPress.org platform, with many enthusiastic users. It is often ranked as one of the bests free themes by WordPress professionals and users.